What began as a 70th anniversary celebration for Green Top staff and loyal customers, swiftly became a "must-attend" event for outdoor enthusiasts from across the region. The Green Top Outdoor Expo is the largest outdoor retailer show in Virginia.

We proudly host this FREE family-friendly event that features hundreds of sporting-life vendors, product demos, and exhibits plus industry expert meet & greets, great food, live music, Kid Zones, and so much more.
(Click section below to learn more.)
(click section below to learn more)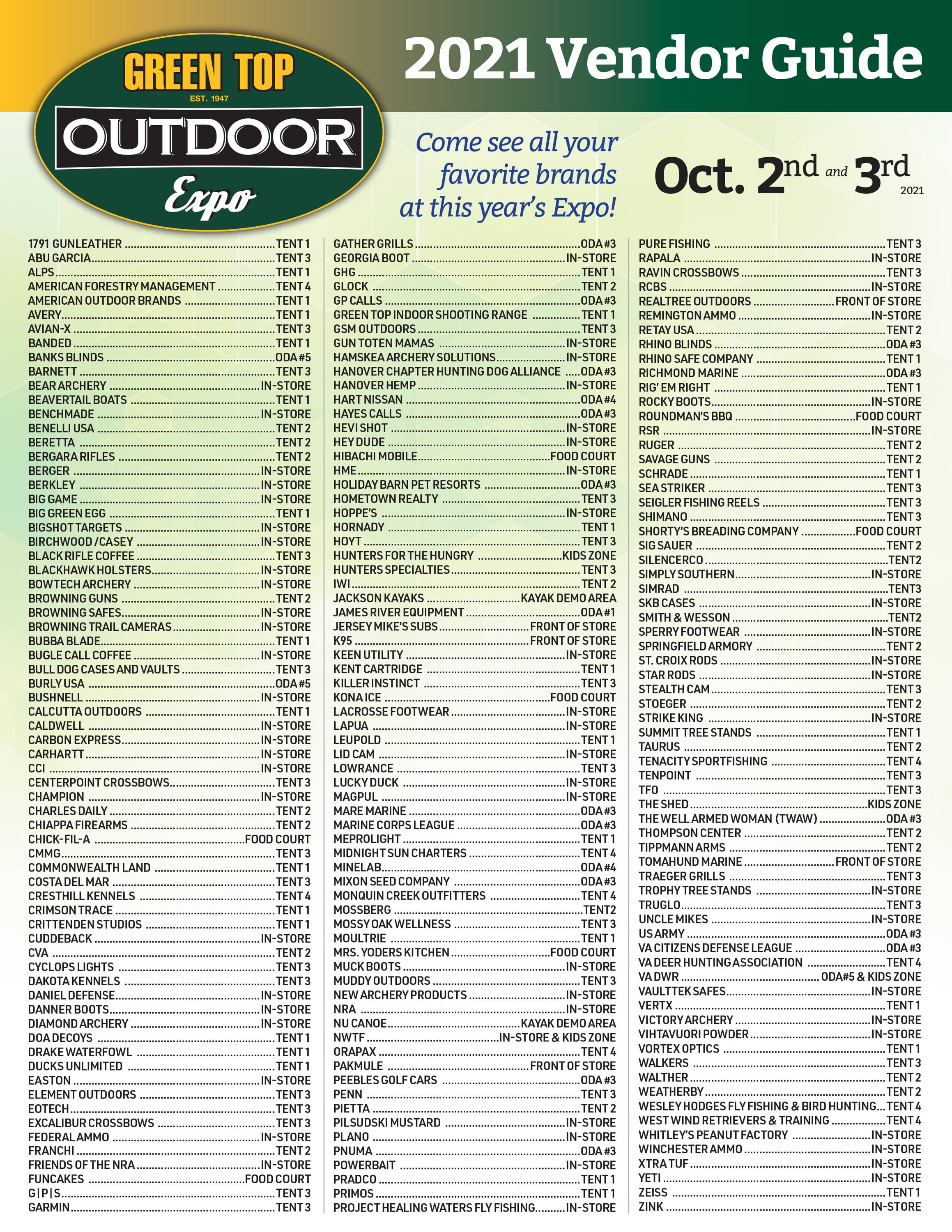 Highlights from Our Last Expo

For 3 fun-filled, exciting days in October 2019, thousands of hunters, anglers, and outdoor enthusiasts of all ages gathered for Green Top's Annual Outdoor Expo right here at our lodge in Ashland, Virginia.
With free admission, free parking, 180+ top vendors from the outdoor industry, fun kids' activities, product demos, show specials, great food, live music, special guests, and prize drawings, the Outdoor Expo has truly become the premier event in the Mid-Atlantic region for hunting, fishing, and outdoor enthusiasts.
And this year promises to be even bigger and better than ever. So, mark your calendar and make plans to join us at the 2021 Green Top Outdoor Expo!
Family and Kids Activities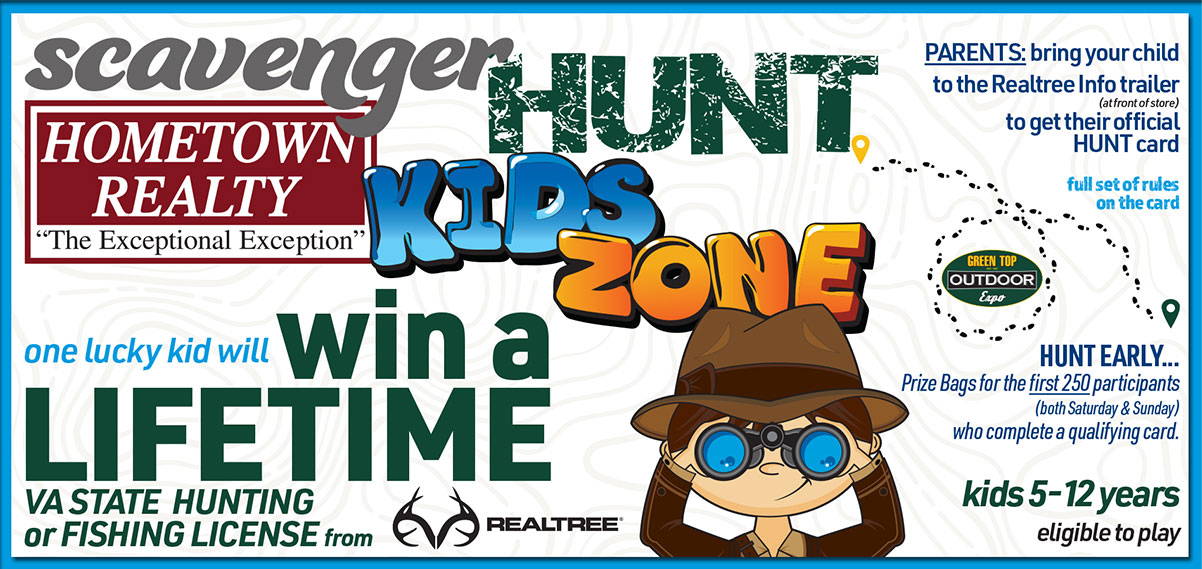 Hometown Realty Kids Scavenger Hunt
Kids (ages 5-12) will have the ability to visit interactive education stations to learn more about what the outdoors has to offer. The stations include: archery, catch-and-release fishing, backyard bass education, NWTF air gun range, and Ducks Unlimited waterfowl education. Youth must be accompanied by an adult while visiting stations.
Fun Activities for Everyone
Catch-and-release fishing

VA DWR (Dept. of Wildlife Resources) backyard bass education

VA DWR Archery Alley

VA DWR education area

Pure Fishing fish tank

National Wild Turkey Federation air gun range

Ducks Unlimited Greenwing education area

Multiple seminars and product demos

Live music

Hometown Realty "Kids Scavenger Hunt"

Celebrity Meet & Greets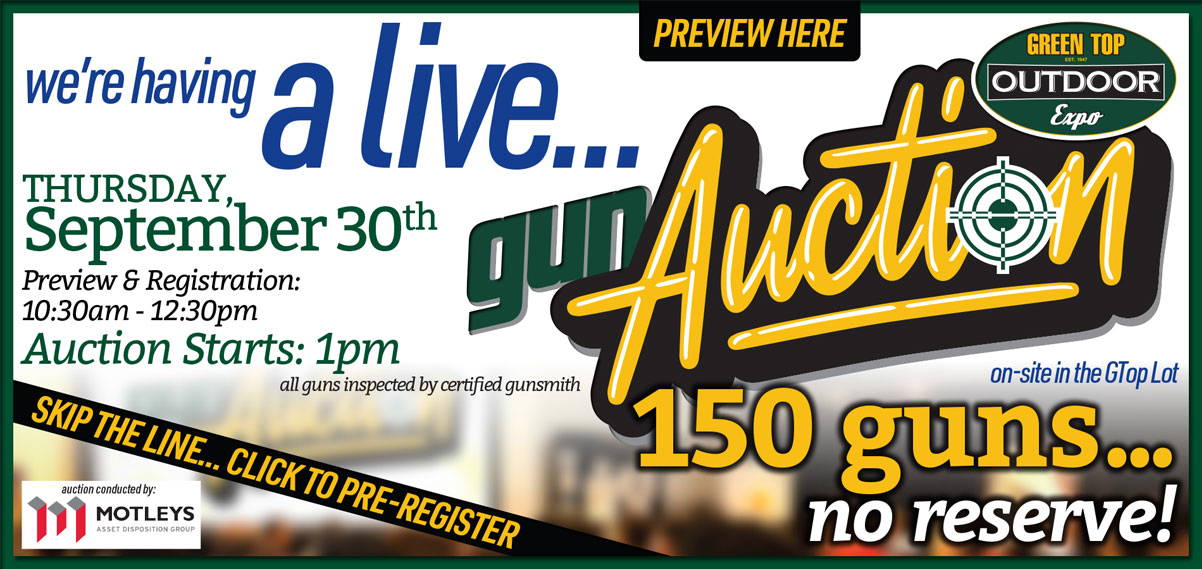 This is the first year of what is sure to be an exciting Green Top Expo tradition for years to come. We will have 150 pre-owned guns from manufacturers such as Remington, Sig Sauer, Ruger, Smith & Wesson, Mossberg, Glock, Browning, Heckler & Koch, Springfield Armory, and more! All firearms are inspected by certified gunsmiths and ready for use.
Registration will be available on site the day of the auction, but we strongly recommend that you PRE-REGISTER NOW to avoid long lines and to receive express check-in on auction day. (Auction starts 1:00pm EDT, September 30, 2021)
You can also bid online, even if you can't attend in person. Click here for more info.
Don't miss it!
Fundraising for Worthy Causes
Green Top is a proud supporter of these great charities. And we're glad to have them be part of the Outdoor Expo again this year.
Hunters for the Hungry provides donated venison to people in need. Since they began in 1991, they have provided over 7.2 million pounds and over 28.8 million quarter pound servings of lean meat to feed under-privileged individuals and families.
Ducks Unlimited leads the world in wetlands and waterfowl conservation. Since 1937, DU has been delivering its work through a series of partnerships with private individuals, landowners, agencies, and other entities to further the goal of conserving waterfowl habitats for future generations.
When the National Wild Turkey Federation (NWTF) was founded in 1973, there were only around 1.3 million wild turkeys left in North America. But after decades of tremendous effort on the part of thousands of NWTF members, volunteers, professional staff, and committed partners, that number has risen to almost 7 million turkeys that are thriving across the continent. By facilitating the investment of $488 million in wildlife conservation and the preservation of North America's hunting heritage, they have improved more than 17 million acres of wildlife habitat and introduced 100,000 people to the outdoors.
Project Healing Waters Fly Fishing, Inc. is dedicated to the physical and emotional rehabilitation of disabled active military service personnel and disabled veterans through fly fishing and associated activities including education and outings.
Through character development and values-based leadership training, the Boy Scouts of America (BSA) helps young people from kindergarten to age 20 be "Prepared. For Life.®" Since its inception in 1910, more than 130 million young men and women have participated in the BSA's youth programs operated by local chartering organizations, which implement the Scouting program for youth within their communities. More than 35 million adult volunteers have helped carry out the BSA's mission over the years and have instilled a lifelong love for the outdoors in the hearts and minds of generations.
The Virginia Deer Hunter Association (VDHA), is a volunteer, statewide, non-profit organization dedicated to responsible management of Whitetail Deer and their habitat. The VDHA serves as "the voice" of deer hunters while protecting the rights and traditions of deer hunting. They proudly host the VA Whitetail Trophy Clash at the Green Top Outdoor Expo each year. This exciting contest is a way for the VDHA to raise funds and awareness to promote the sport of hunting.
Friends of the NRA and NRA - The heart of The NRA Foundation's mission is preserving the core of our American values and traditions in our steadfast effort to Teach Freedom. Established in 1990, The NRA Foundation, Inc. aims to defend and foster the Second Amendment rights of all law-abiding Americans. Their activities and events promote firearms & hunting safety, enhance marksmanship skills, and educate the general public about firearms in their historic, technological and artistic context. Funds granted by The NRA Foundation benefit a variety of constituencies throughout the United States including children, youth, women, individuals with physical disabilities, gun collectors, law enforcement officers, hunters and competitive shooters.
The Marine Corps League proudly supports Marines throughout the United States. With 10 Divisions covering 48 Departments and over 1,140 Detachments in communities across the land, The Marine Corps League provides funeral honors to over 10,000 funerals per year and supports the Toys for Tots efforts by working with the Marine Corps Reserve and Toys for Tots Foundation. The Marine Corps League raises millions of dollars annually for the underprivileged youth of America through the collection and distribution of toys all across the United States. The Marine Corps League also supports the Marine Corps Scholarship Foundation, Semper Fi Fund, Navy Marine Corps Relief Society, Mack's Marines, and the Young Marines.
The Virginia Citizens Defense League (VCDL) is a non-profit, non-partisan, grassroots organization dedicated to advancing the fundamental human right of all Virginians to keep and bear arms as guaranteed by the Second Amendment to the United States Constitution and Article I Section 13 of the Constitution of the Commonwealth of Virginia. Through events and educational programs, their goal is to equip every voter to be active partners in the ongoing effort to preserve and protect the Gun Rights of Virginia citizens.
VA Whitetail Trophy Clash
Sponsored by VA Deer Hunters Association & VA DGIF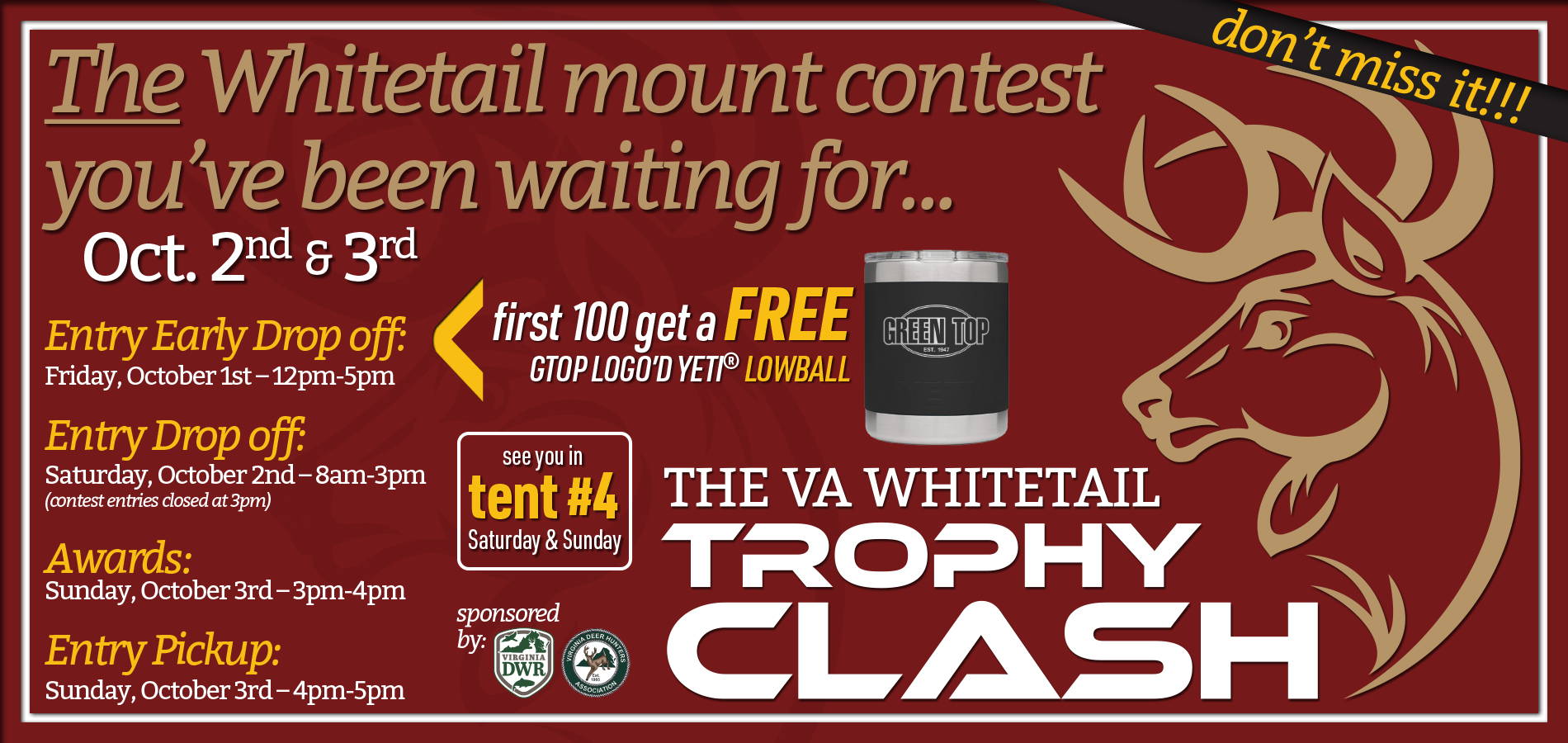 Trophy Clash Contest Fees and Rules: Entries must have been taken during the 2019-2020 & 2020-2021 Virginia Deer Hunting Seasons.
Entry Fee: $35
Includes 1-year membership or renewal to the Virginia Deer Hunters Association. Contestants will also receive a Trophy Citation with their Boone & Crockett score.
Classes:
- 6 points & less*
- 7 and 8 points*
- 9, 10 & 11 points*
- 12 points and above*
*with Typical and Non-Typical in each class

Game Check Card:
Hunters must have a certified Virginia Game Check Card or their confirmation number on their hunting license from VDWR telephone or on-line game check to enter the deer head or antlers.

Harvest Compliance:
Entries must have been harvested in Virginia in compliance with VDWR Game Law Regulations under Fair Chase Conditions.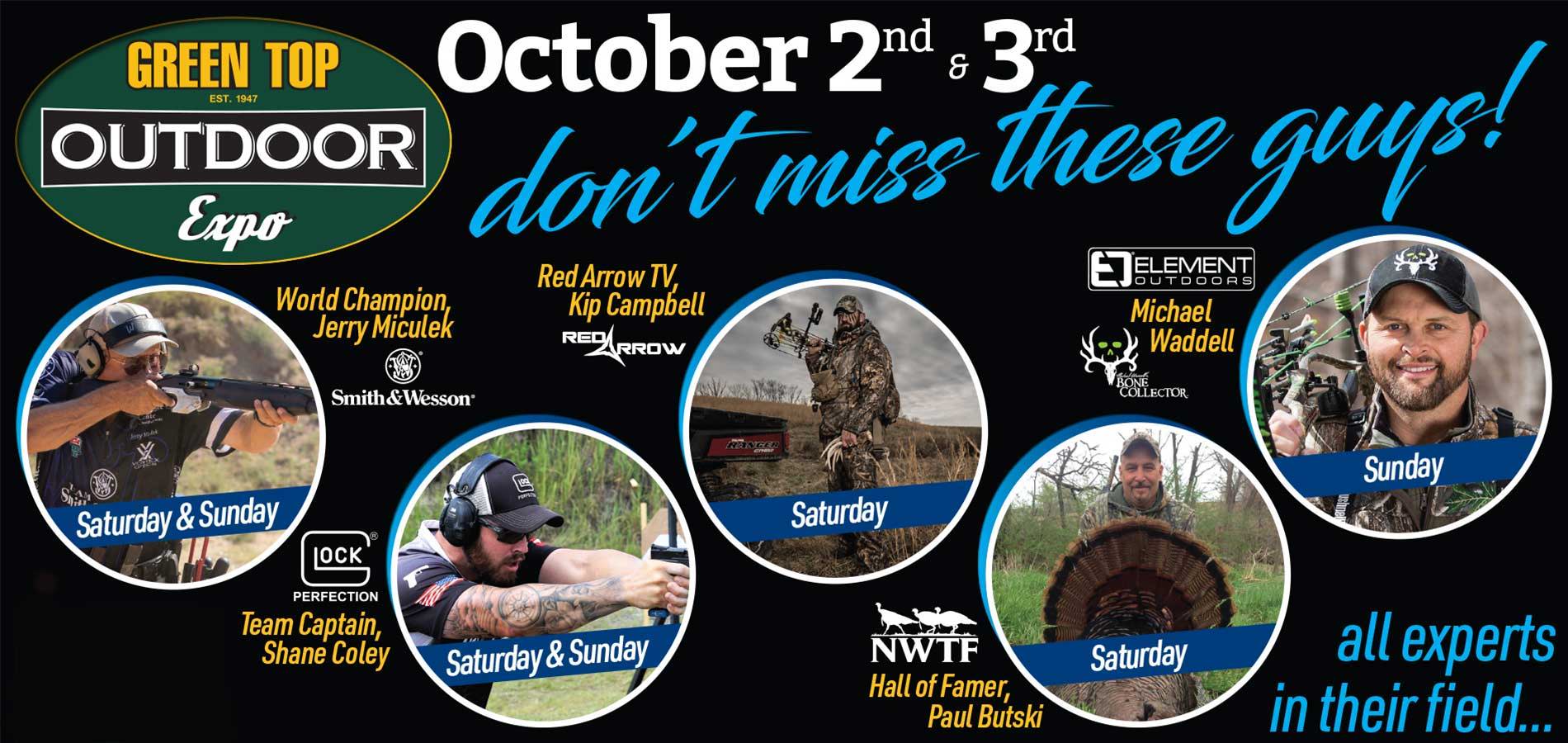 ---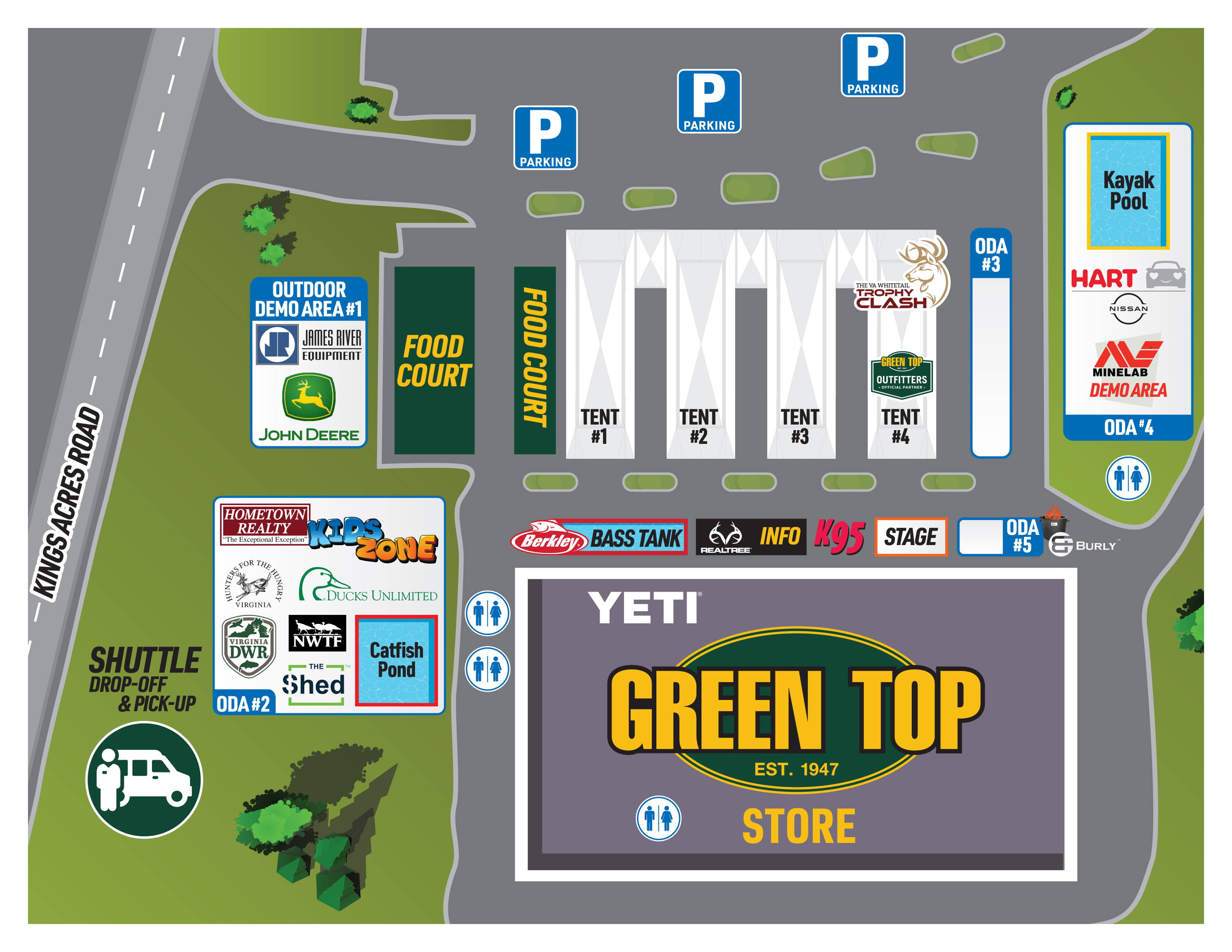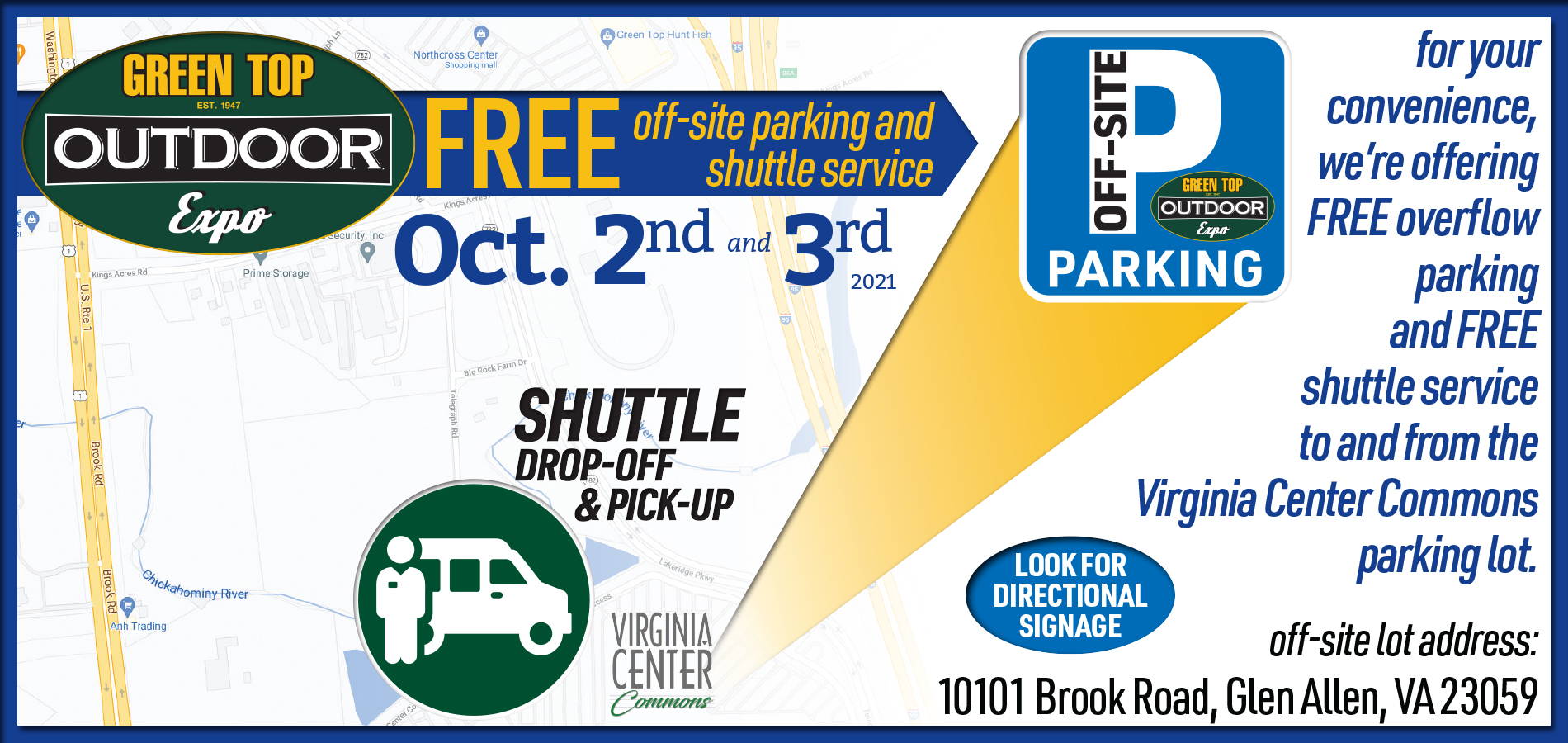 Off-Site Parking Information
For your convenience, we are offering overflow parking and shuttle service
to and from the Virginia Center Commons parking lot during the Expo.