Posted by Ryan Robertson on Jun 4th 2020
Double the flavor of mashed potatoes by adding herbs and Traeger's signature wood-fired taste. Start by roasting your potatoes on the grill for one hour at 350°F. Remove and add in the herb and garlic infused cream for a flavorful take on this popular side dish.
Traeger perfection!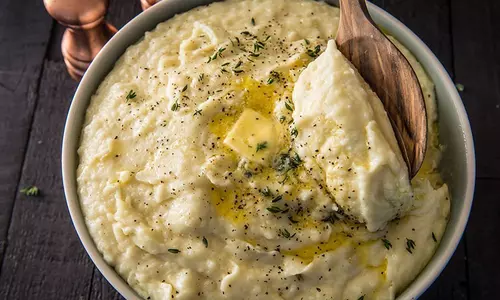 INGREDIENTS
Pound russet potatoes
Cup water
Pint heavy cream
2 rosemary sprigs
3 thyme sprigs
2 Tablespoon thyme leaves
6 Sage, Leaves
6 peppercorns
2 garlic
2 Butter, Sticks
To Taste salt
To Taste ground black pepper
STEPS
When ready to cook, set the temperature to 350℉ and preheat, lid closed for 15 minutes.
For the mashed potatoes: Wash and peel the potatoes and cut into 1" cubes. Put potatoes in an oven safe dish with 1-1/2 cups water, cover and cook for 1 hour or until fork tender.
While the potatoes are cooking, combine the cream with the herbs, peppercorns, and garlic cloves in a small saucepan.
Place on the grill, cover, and allow to steep for 15 minutes. Strain the cream through a sieve to remove the herbs and garlic, place back in a saucepan and keep warm on the stove.
Drain and using a potato ricer or food mill, rice the potatoes back into the large stockpot. Slowly pour in two-thirds of the cream then stir in 1 stick of the butter and a tablespoon of salt. Continue to add more cream, butter and salt to reach desired consistency.
Serve immediately or keep warm over a water bath or in a slow cooker over the lowest setting. Enjoy!
*Source: TraegerGrills.com