Posted by Ryan Robertson on Jun 4th 2020
Here is a sweet and humble, personal pie that is both healthy and delicious.
This Traeger treat is one that you and your guests are sure to love!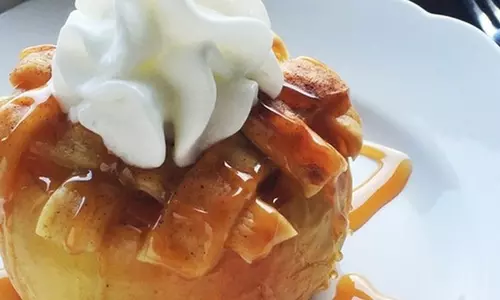 INGREDIENTS
7 whole apples - Pink Lady or Honey Crisp
2 Tablespoons honey
1/2 Teaspoon Apple Pie Spice
1/4 Cup Pecans, chopped
1/4 Teaspoon Rum Extract
2 Tablespoon Oil, coconut
1 Refrigerated Pie Crust
1 Tablespoon Unsalted Butter, Melted
To Taste Coconut Whip Cream
To Taste caramel sauce
To Taste cinnamon
To Taste Vanilla Ice Cream
STEPS
1 - Heat Traeger to 375F degrees. (we used apple flavored pellets but pecan would be equally amazing)
2 - Slice the tops off four apples.
3 - Using melon baller, carefully remove inner part of each apple.
4 - You may need to slice the bottoms evenly to stand upright as well. Dice the remaining three apples into small chunks to use in apple pie filling.
5 - In a large bowl mix diced apple chunks with honey, apple pie spice, pecans, and rum extract to make the apple pie filling.
6 - Heat coconut oil over medium and sauté apple mixture for 2 minutes. Remove from heat.
7 - Fill hollowed apples with prepared apple pie filling
8 - Using a pizza cutter, slice pie crust into even strips ( about 1/4") and lay in lattice fashion across the top of each apple. Trim excess pie crust around the edges with a knife.
9 - Brush melted butter on top of pie crusts and sprinkle pie crusts with cinnamon-coconut sugar.
10 - Place apples in a high walled baking dish. Add about 1/4 cup of water to bottom of dish to just cover the bottoms of the apples. Cover with foil and bake for 20-25 minutes. Remove foil and return to oven for an additional 20 minutes. Apples are done when crust is golden brown along edges and apples are soft to slice.
11 - Serve warm with coconut whip cream, clean caramel sauce and vanilla ice cream and enjoy!
*Source: TraegerGrills.com